In our last article, I introduced you to Wire Gridwall, a versatile display system with what some describe as a industrial feel. This time we turn our attention to Slatwall. When you need versatility but a more elegant aesthetic, Slatwall is a great solution to consider.
What is Slatwall?
Slatwall is essentially a display panel characterized by horizontal grooves or "slats' that can accommodate a wide variety of add-on components to customize the final appearance of the display. Those components, ranging from shelves to bins, fit snugly into the slats to create a solid yet adaptable display that can accommodate variety of products.
Why Choose Slatwall?
Slatwall is one of the most popular display systems used by retailers for good reason.
Durability – Slatwall is made from highly durable MDF, which means it naturally has a long usable life, is resistant to damage, and has a high load capacity
Economy – Slatwall is available in a variety of finishes from basic to elegant and can be configured to meet you budget. Combined with its durability, Slatwall is an economical choice for long-term merchandising.
Customizability – You can choose the Slatwall finish, the slat color and components to create a truly custom display that matches your store environment and product requirements.
Versatility – Slatwall can be adapted for use as a wall display or free—standing unit. Since Slatwall is built to standard dimensions, the add-on accessories can be rearranged to both meet evolving needs and to update your store appeal.
Ease of Use – Once you installed your slatwall, the display is easily changed without the need of tools which makes it ease to set up and modify your display.
Slatwall Materials
At its most basic, Slatwall is made of a base material, primarily wood fiberboard although other materials like PVC are available. A groove is then cut horizontally into the Slatwall panel and if desired metal inserts are inserted into the grooves to create the Slat that then accepts add-on accessories.
Slatwall is available in a variety of finishes to match your store décor. You can view our full selection of Slatwall panel and inserts including all finish and color options HERE.
Options include:
Paintgrade – Paintgrade Slatwall is unfinished and can be painted or stained to match your specific store décor.
Melamine – Melamine is a durable finish available in an array of colors including white, almond, light grey, grey and black.
Brushed Aluminum – Faux metal finished with melamine processed for the look of brushed aluminum.
Natural Wood – These Slatwall units are finished in natural wood colors including red oak, white birch or panel wood
Specialty Wood – From weathered barnwood to knotty pine to walnut, specialty wood Slatwall can enhance you store environment.
Mirrored – Mirrored Slatwall is laminated with acrylic mirroring material.
To complement you Slatwall, inserts for the grooves are available in a variety of different finishes and colors to complement or contrast your panel.
Wall Panels vs Freestanding Displays
The most basic Slatwall unit is a flat panel that can be mounted to a wall to create a flexible display system. Freestanding slatwall units are also available in a variety of sizes and configurations to use throughout your store. Our selection of freestanding Slatwall displays can be seen HERE.
Add-On Components and Accessories
The beauty of Slatwall, like Gridwall, is that it is fully customizable. Add-on components include a wide variety of acrylic accessories, baskets, shelves, hooks, brackets, waterfalls, faceouts and bins. You can view our Slatwall accessories HERE.
You can shop our full assortment of Slatwall panels, inserts and accessories by clicking below, or give us a call and we can help you configure a package of products tailored to your needs.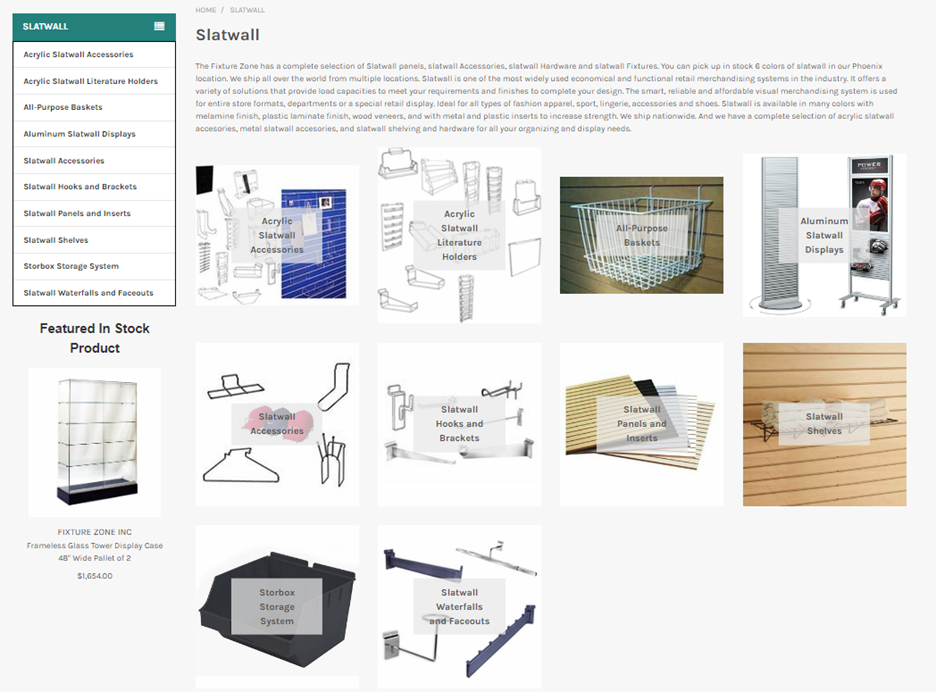 Recent Posts
The cosmetics industry faces challenges in brand and product merchandising that are unique in the c …

In our last article, I introduced you to Wire Gridwall, a versatile display system with what so …

I've had a lot of customer inquiries lately about Gaylord boxes (or bulk storage bins) and thought t …