Thrift stores like Goodwill are unique in the retail world, combining complex donation receiving and backroom process with a dynamic, ever changing store environment to create a treasure hunt shopping experience for customers. Our long experience with thrift stores has made us the preferred supplier of many thrift brands and we share a commitment to your mission.
Your Unique Stores
In addition to being a unique retail channel, every thrift store is unique, from the customers you serve to the ever-changing products you sell. We approach every thrift store as an opportunity to understand YOUR operation and to find ways to help you operate more efficiently and effectively.
The Fixture Zone is a one-stop shop for thrift operators, from donation receiving equipment to merchandising to checkout and beyond. From backroom to front wall, we know thrift stores and offer products to meet your needs throughout the store.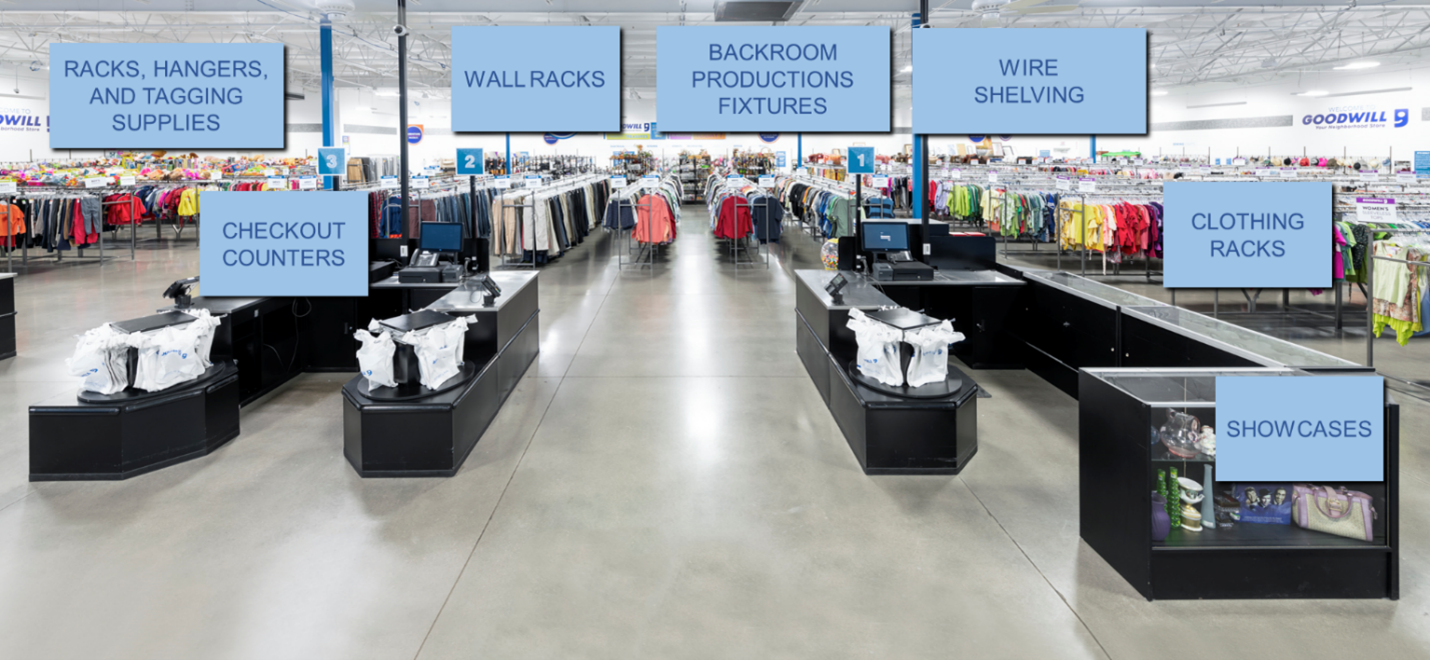 We've created a special page on our website that includes products most in demand by thrift stores at https://thefixturezone.com/thrift-store-fixtures.html including slatwall, gridwall, accessories, tagging supplies and more.
Donation Receiving
Thrift store operations start from the rear with donation receiving and processing. From donation bins to reusable Gaylords to sorting tables and tagging supplies, you'll find everything you need for behind-the-scenes operations at The Fixture Zone.
Merchandising
Each store is unique, and we offer everything you need to make your shoppers comfortable and excited. Our selection of cost-effective shelves, racks and displays can meet the most demanding requirement, and when needed we can develop and source custom display racks and fixtures tailored to you specific needs. We also carry a variety of day-to-day supplies including hooks, label tags, hangers and hanger stackers and more.
Checkout
We create brand appropriate cash wraps and checkouts to make transaction processing easy.
And Beyond
From shopping carts to signage, we are here to support your store needs. If you need something we don't offer, give us a call and we'll work to solve your challenge.
Beyond our online catalog and custom display capabilities, we offer services to make your operations successful.
Remodels and New Store Openings
We partner with stores nationwide to support remodels and new store openings, ensuring timely delivery at the right time at the right place. We can serve as a single-source for your needs to make remodels and store openings run smoothly.
A Partner for Growth
We take pride in partnering with our thrift store customers for growth. Our commitment is real, and we make it easy to meet your specific needs Just contact us and one of our representatives will work with you to understand your needs and propose solutions that work.
Email us at sales@thefixturezone.com or call us at 800-528-5306.
Recent Posts
2023 - What's Your Plan?New year. New challenges. New opportunities.The start of the n …

In today's busy retail world, the focus is on displaying merchandise to entice customers to buy. Th …

When stock display fixtures don't showcase your products and brand, sales can suffer. Custom Acryli …